The Devil You Know - Trish Doller
Publisher
: Bloomsbury AUS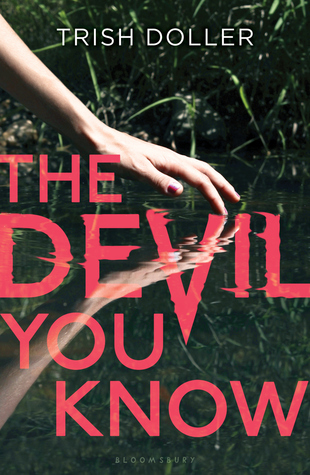 Synopsis
:

Eighteen-year-old Arcadia wants

adventure

. Living in a tiny Florida town with her dad and four-year-old brother, Cadie spends most of her time working, going to school, and taking care of her family. So when she meets two handsome cousins at a campfire party, she finally has a chance for fun. They invite her and friend to join them on a road trip, and it's just the risk she's been craving-the opportunity to escape. But what starts out as a fun, sexy journey quickly becomes dangerous when she discovers that one of them is not at all who he claims to be. One of them has deadly intentions.
A road trip fling turns terrifying in this contemporary story that will keep readers on the edge of their seats.
* * *
What I Thought
:
I have been dying to read this book since I heard Doller was bring out a new one! I absolutely loved her previous two books, and I have to say, this one was no different! Cadie is sick of her adult responsibilities and just wants adventure, so when she gets offered it, she grabs the opportunity with both hands. Doesn't matter that it leads her on a road-trip with two gorgeous male strangers, and an underlying feeling that something is just not right.
Cadie is attracted to both cousins, Matt and Noah, but Noah is the one that is continually pulling her heart strings. But of course, this isn't just some road trip love story. This is a thriller and soon things start to get interesting... and creepy. The Devil You Know will keep you on your toes, even if you manage to figure it out a little early, and will leave you wanting more. I know I did!
If you have read Doller's other books, or even if you haven't, I suggest picking this one up! It's absolutely wonderful and is a quick and easy read!
The Good
:
This book was similar yet different to her other novels - but it had hot boys and a strong female character, which I love!
The Bad
:
I figured out the twist of the story pretty early on, which was slightly disappointing, but was still good reading how it got there, because I couldn't help second-guessing myself. Now, bring on the next story please Doller!