Top Ten Tuesday
is an original feature/weekly meme created at
The Broke and the Bookish
. Each week there is a new topic and we all share our thoughts on that topic!
For this week on Top Ten Tuesday, the topic is:
Top Ten 2015 Releases I Meant To Get But Didn't
(In no particular order)
An Ember in the Ashes - Sabaa Tahir
I WILL TELL YOU THE SAME THING I TELL EVERY SLAVE.
THE RESISTANCE HAS TRIED TO PENETRATE THIS SCHOOL COUNTLESS TIMES. I HAVE DISCOVERED IT EVERY TIME.
IF YOU ARE WORKING WITH THE RESISTANCE, IF YOU CONTACT THEM, IF YOU THINK OF CONTACTING THEM, I WILL KNOW
AND I WILL DESTROY YOU.
Laia is a slave.
Elias is a soldier.
Neither is free.
Under the Martial Empire, defiance is met with death. Those who do not vow their blood and bodies to the Emperor risk the execution of their loved ones and the destruction of all they hold dear.
It is in this brutal world, inspired by ancient Rome, that Laia lives with her grandparents and older brother. The family ekes out an existence in the Empire's impoverished backstreets. They do not challenge the Empire. They've seen what happens to those who do.
But when Laia's brother is arrested for treason, Laia is forced to make a decision. In exchange for help from rebels who promise to rescue her brother, she will risk her life to spy for them from within the Empire's greatest military academy.
There, Laia meets Elias, the school's finest soldier—and secretly, its most unwilling. Elias wants only to be free of the tyranny he's being trained to enforce. He and Laia will soon realize that their destinies are intertwined—and that their choices will change the fate of the Empire itself.
Every Last Word - Tamara Ireland Stone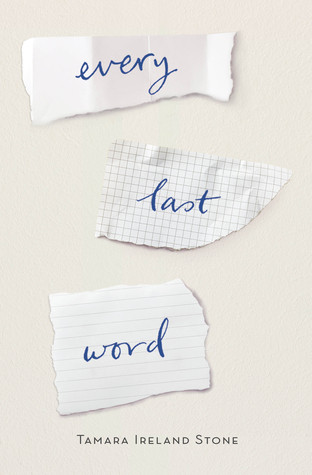 If you could read my mind, you wouldn't be smiling.
Samantha McAllister looks just like the rest of the popular girls in her junior class. But hidden beneath the straightened hair and expertly applied makeup is a secret that her friends would never understand: Sam has Purely-Obsessional OCD and is consumed by a stream of dark thoughts and worries that she can't turn off.
Second-guessing every move, thought, and word makes daily life a struggle, and it doesn't help that her lifelong friends will turn toxic at the first sign of a wrong outfit, wrong lunch, or wrong crush. Yet Sam knows she'd be
truly
crazy to leave the protection of the most popular girls in school. So when Sam meets Caroline, she has to keep her new friend with a refreshing sense of humor and no style a secret, right up there with Sam's weekly visits to her psychiatrist.
Caroline introduces Sam to Poet's Corner, a hidden room and a tight-knit group of misfits who have been ignored by the school at large. Sam is drawn to them immediately, especially a guitar-playing guy with a talent for verse, and starts to discover a whole new side of herself. Slowly, she begins to feel more "normal" than she ever has as part of the popular crowd . . . until she finds a new reason to question her sanity and all she holds dear.
All We Have Is Now - Lisa Schroeder
What do you do with your last day on earth?

Just over twenty-four hours are left until an asteroid strikes North America, and for Emerson and everyone else who didn't leave, the world will end. But Emerson's world already ended when she ran away from home. Since then, she has lived on the streets, relying on her wits and on her friend Vince to help her find places to sleep and food to eat.

The city's quieter now that most people are gone, and no one seems to know what to do as the end approaches. But then Emerson and Vince meet Carl, who tells them he has been granting people's wishes—and gives them his wallet full of money.

Suddenly, this last day seems full of possibility. Emerson and Vince can grant a lot of wishes in one last day—maybe even their own.
The Rest Of Us Just Live Here - Patrick Ness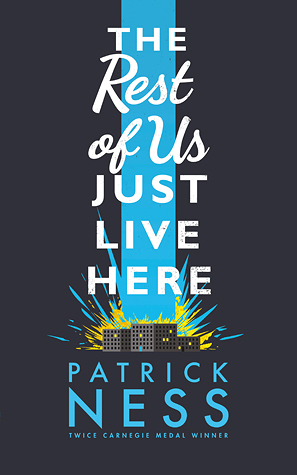 What if you aren't the Chosen One?

The one who's supposed to fight the zombies, or the soul-eating ghosts, or whatever the heck this new thing is, with the blue lights and the death?

What if you're like Mikey? Who just wants to graduate and go to prom and maybe finally work up the courage to ask Henna out before someone goes and blows up the high school. Again.

Because sometimes there are problems bigger than this week's end of the world, and sometimes you just have to find the extraordinary in your ordinary life.

Even if your best friend is worshipped by mountain lions.

Award-winning writer Patrick Ness's bold and irreverent novel powerfully reminds us that there are many different types of remarkable.
Vengeance Road - Erin Bowman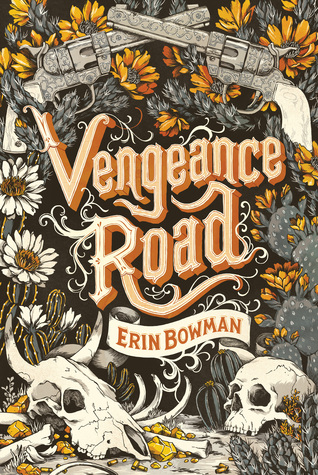 Revenge is worth its weight in gold.

When her father is murdered for a journal revealing the location of a hidden gold mine, eighteen-year-old Kate Thompson disguises herself as a boy and takes to the gritty plains looking for answers—and justice. What she finds are untrustworthy strangers, endless dust and heat, and a surprising band of allies, among them a young Apache girl and a pair of stubborn brothers who refuse to quit riding in her shadow. But as Kate gets closer to the secrets about her family, a startling truth becomes clear: some men will stop at nothing to get their hands on gold, and Kate's quest for revenge may prove fatal.
A Mad Zombie Party - Gena Showalter
The enemy has risen from the grave. Together we slayers must stand, or one by one we will fall.

Ali Bell's crew of zombie slayers thought they'd won the war against Anima Industries, the evil company responsible for capturing and experimenting on zombies in an effort to discover the secret to immortality. In the last epic clash, the slayers lost many of their crew and closest friends. But Frosty, the ice man himself, has not recovered from one casualty in particular — the love of his life, Kat Parker.

On the path to self-annihilation, Frosty receives a message from beyond — Kat's spirit returns, insisting he partner with rogue slayer Camilla Marks. Frosty will do anything for Kat. Except that. Camilla's betrayal caused Kat's death.

But when Anima rises from the grave stronger than ever, Frosty, Camilla and all the slayers will have to work together to survive. And one broken slayer will learn that sometimes the line between hate and attraction is blurred... and the road to redemption may mean letting go of the past and grabbing hold of the future.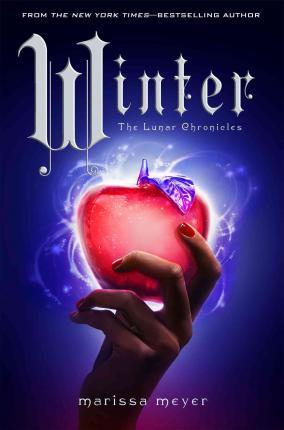 Princess Winter is admired by the Lunar people for her grace and kindness, and despite the scars that mar her face, her beauty is said to be even more breathtaking than that of her stepmother, Queen Levana.
Winter despises her stepmother, and knows Levana won't approve of her feelings for her childhood friend—the handsome palace guard, Jacin. But Winter isn't as weak as Levana believes her to be and she's been undermining her stepmother's wishes for years. Together with the cyborg mechanic, Cinder, and her allies, Winter might even have the power to launch a revolution and win a war that's been raging for far too long.
Can Cinder, Scarlet, Cress, and Winter defeat Levana and find their happily ever afters?
Six of Crows - Leigh Bardugo
Ketterdam: a bustling hub of international trade where anything can be had for the right price—and no one knows that better than criminal prodigy Kaz Brekker. Kaz is offered a chance at a deadly heist that could make him rich beyond his wildest dreams. But he can't pull it off alone...
A convict with a thirst for revenge.
A sharpshooter who can't walk away from a wager.
A runaway with a privileged past.
A spy known as the Wraith.
A Heartrender using her magic to survive the slums.
A thief with a gift for unlikely escapes.
Six dangerous outcasts. One impossible heist. Kaz's crew is the only thing that might stand between the world and destruction—if they don't kill each other first.
Forever Summer - C.J. Duggan
You see there's this boy.
He makes me smile, forces me to listen, serenades me out of tune and keeps me sane, all the while driving me insane. He's really talented like that. But for the first time in since, well, forever, things are about to change. The question is, how much am I willing to lose in order to potentially have it all?

Enter a world of sweltering Aussie summers, fabulously addictive characters and sweet intoxicating romance in C.J Duggan's
FOREVER SUMMER
Adam and Ellie's Story
The Notorious Pagan Jones - Nina Berry
Pagan Jones went from America's sweetheart to fallen angel in one fateful night in 1960: the night a car accident killed her whole family. Pagan was behind the wheel and driving drunk. Nine months later, she's stuck in the Lighthouse Reformatory for Wayward Girls and tortured by her guilt—not to mention the sadistic Miss Edwards, who takes special delight in humiliating the once-great Pagan Jones.
But all of that is about to change. Pagan's old agent shows up with a mysterious studio executive, Devin Black, and an offer. Pagan will be released from juvenile detention if she accepts a juicy role in a comedy directed by award-winning director Bennie Wexler. The shoot starts in West Berlin in just three days. If Pagan's going to do it, she has to decide fast—and she has to agree to a court-appointed "guardian," the handsome yet infuriating Devin, who's too young, too smooth, too sophisticated to be some studio flack.
The offer's too good to be true, Berlin's in turmoil and Devin Black knows way too much about her—there's definitely something fishy going on. But if anyone can take on a divided city, a scheming guardian and the criticism of a world that once adored her, it's the notorious Pagan Jones. What could go wrong?
That's all folks! Come back next week for another top ten and make sure you put your own list in the comments!
Mad Claire